Welcome to the best resource on the web for all things related to the Warriner Family History.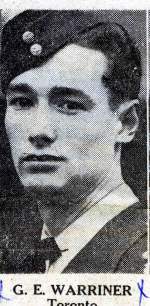 This is a project that began many years ago. My grandfather, Edward (Eddy) Warriner, pictured right, developed an interest in the genealogy of our family name and began researching it.
Then on Jan 30, 2010, he passed away. This website represents the continuation of his work.
The lion's share of the genealogical data is found under Family Tree on the left. It's a sequence of web pages that allow you to navigate through the family tree.
I use software developed by Cumberland to manage all of the family connections.
This is an on-going project so it's possible that there are ommisions and errors. It also means that more content is always being added, so visit regularily!
Please send any comments, suggestions or corrections either by email to WarrinerFamilyHistory@gmail.com or by leaving a comment on our Facebook page at www.facebook.com/The-Warriner-Family
Thanks and Enjoy!